Bluff Yard Ramps v. Copperloy | How do we compete?
Here at Copperloy, we believe competition is good for growth. Think about it, without competition, life would be boring. There would be no goals to strive better, no desire to improve our technology. Life would be at a standstill. With that being said we know who are competitors are and we're also not afraid to say it. But we also have a desire to always be one step ahead. Hence the reason our in-house engineering team staff continually generates new ideas and designs. A team that strives to outperform our competitors such as Bluff Manufacturing, and Medlin, and the Yard Ramp Guy and Dura Ramp. 
Therefore if you are searching for a Bluff Steel Yard Ramp, we want you to consider a better alternative with Copperloy. We have built a worldwide reputation known for performance, durability, safer operation, smoother operation, and superior customer service. With our wide range of capacities and sizes available (and IN stock), along with an in-house engineering team to custom make one with any requirements, we are more than confident we can deliver a yeard ramp meeting your loading and unloading needs. 
We have over 60 years of experience manufacturing loading dock equipment. And we have so much more than just yard ramps to offer – dock equipment such as:
Lift Tables – Accommodate capacities from 2,500-25,000 lbs.
Edge of Dock Levelers – Services a height differential 5″ above and below dock, widths ranging from 66″-84″, and capacities up to 30,000 lbs.
Dock Boards – Available in aluminum or steel with capacities up to 20,000 lbs.
Dock Plates – Available in aluminum or steel with capacities up to 12,500 pounds.
Yard Ramps – High strength, durable yard ramps for loading bays and material handling. The best yard ramps on the market are made by Copperloy.
Portable Dock Ramps – Moveable loading dock with capacities up to 30,000 lbs.
Dock Lifts – Pit or Surface mount available.
Van Ramps/Walk Boards – High strength aluminum construction with capacities up to 4,000 lbs.
Rail Dockboard – Several design applications available to meet specific needs.
Portable Platforms – Custom made to fit specifications, optional adjustable legs.
Wheel Chocks – Extra strong, patented aluminum construction.
Trailer Jacks – Capable of supporting 50 tons.
We Dare To Compare To Bluff Steel Yard Ramps
The benefits and features that have customers selecting YARD RAMP Site yard ramps over Bluff manufacturing:
Easier Operation –

With the location of the pump on the outside of the yard ramp allows for more convenient access than Bluff ramps.  
Faster raise times –

Copperloy's single-acting hydraulic hand pump allows for the position of the ramp two and a half times faster than Bluff ramps. 
Less wear and tear –

Rotation occurs on the redesigned positioning sleeve instead of the ramp connection. Therefore reducing wear and tear on the ramp structure. Greater Stability – Centrally located cylinder means less chance of tipping. 
Stability –

8-foot level off that's two more feet than offered with Bluff 6-foot level off. 
Positioning Sleeve –

 Allows the ramp to maneuver 180 degrees. Comes standard with YARD RAMP Site steel yard ramps, unlike optionally with Bluff. 
Manufactured in the USA

– Everything we manufacture is made here in the USA. Our manufacturing facility is located in Twinsburg, Ohio.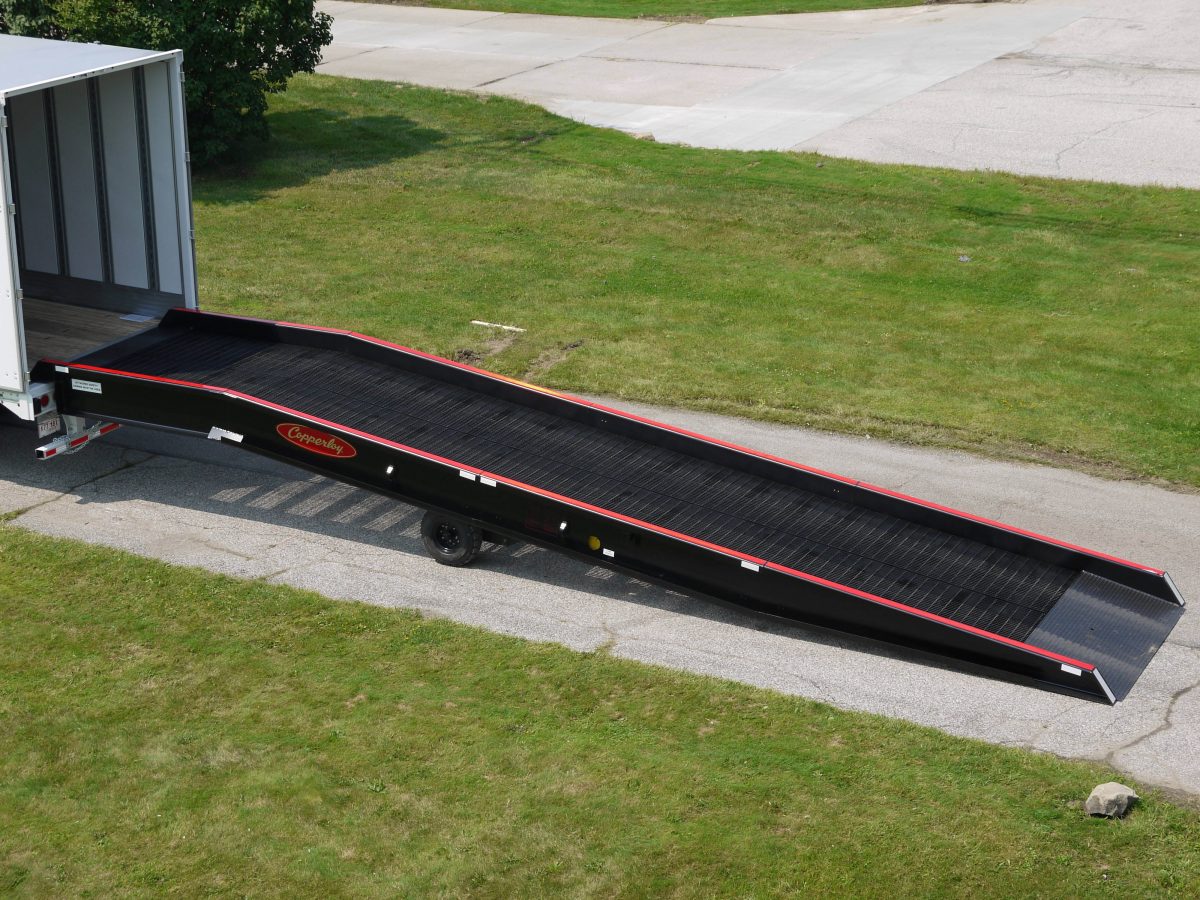 The presence of competition means that you as a customer have the option to choose YARD RAMP Site for your business or one of our competitors. We feel competition is important for our business because it provides us with the reassurance that you're choosing YARD RAMP Site because of the quality of our products and services. And for this, we thank you and your business for choosing us. Without your loyalty, we would not have made YARD RAMP Site a worldwide known name. 
YARD RAMP Site Yard Ramps | Hassel-Free Operation
LOW-END PLATE
Many competitors struggle to design a ramp with smooth and safe forklift access.  However, YARD RAMP Site ramps designs entail key features that make it forklift operation hassle-free.  For example, a low-end plate sits lower than the forklift's wheelbase.  As a result, the front wheels of the loading vehicle can reach our high-traction deck grating while allowing the back wheels to remain safely on the ground.   By simplifying ground-level entry, this reduces any bumps and jolting that may occur when using other ramps.
HIGH-TRACTION DECK GRATING
As mentioned, YARD RAMP Site ramps use a high-traction deck grating.  Made of high-strength steel, grating bars include 1-3/4 spacing between bars. In turn, water, snow, and other debris can easily fall through.  This grating prevents buildup and provides high-quality traction in harsh, environmental conditions.
SAFETY CURB
Safety will always be a key focus at Copperloy.  It is standard that are ramps offer 7″ safety curbs.  We aim to reduce the risk of accidental run-off and other loading mishaps with these high-performing safety curbs.
18-INCH SOLID/PNEUMATIC TIRES 
In comparison to competitors whose ramps often feature dinky wheels prone to instability, YARD RAMP Site ramps feature 18″ pneumatic tires.  We greatly reduce the maintenance that is invariably needed for tires and wheels on the designs of our competitors. How? Well, these tires are solid-filled.  Meaning, there isn't a risk of puncture or flat tires.  Additionally, YARD RAMP Site tires feature lubricated-for-life bearings.  Essentially, these ramp tires are maintenance free!
POSITIONING SLEEVE
Thanks to our unique positioning sleeve, YARD RAMP Site ramps conveniently rotate 180 degrees within minutes. SImply slide the fork of a forklift into the sleeve and adjust the ramp to the proper position.  Decrease downtime significantly and greatly increase overall productivity with this maneuverability feature.
TOWBAR
A customer favorite, the towbar allows for easy transportation within your facility.  The towbar conveniently connects to the end of the ramp and allows for towing speeds up 5-mph.  This feature is not designed for long-distance towing.  However, when it comes to quick moves around the facility, the towbar couldn't be more efficient!
YARD RAMP Site v. Competitors | A Step Ahead
Like we said, there are awesome competitors in the industry such as Bluff Manufacturing, Dura Ramp, and more.  However, when it comes to the best of the best, YARD RAMP Site has the ramp you want.  We know that seeing is believing, so check out this quick comparison video!