Affordable Aluminum Dock Plate – Building Bridges that Make Connections 
The Yard Ramp Site's aluminum dock plate has been providing wharehouses and loading docks with the most efficient low-cost solutions across the nations. Our Specially designed dock plates build bridge over the gap that's between tractor-trailers and docks. Tractor-trailer heights can vary,  especially when the truck has been heavily loaded. Therefore, not only do they provide a bridge over this gap, they also make a connection for the height difference as well.  
The Yard Ramp Site's

Dock Plates

Our aluminum dock plate is highly known to be affordable. It been designed to be functional and is lightweight.  Additionally, these dock plates capacities can handle up to 12,500 pounds. With its designed locking T-bar legs that fit snug into the gap that exists between tractor-trailer and dock. This is an additional feature that prevents the plate from shifting out of its place. Additionally, the plates has a flat design and a slight bend that makes for transitioning the plate simple.  

Our dock plates have been designed for low to medium loading applications. Best when used with pallet jacks, hand trucks, handcarts, dollies, or other lightweight material handling equipment. We do not recommend for use with any form of power equipment and below-dock loading.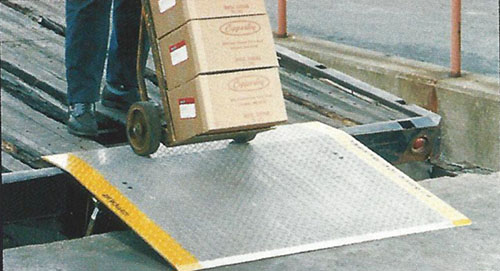 Our aluminum dock plates are lightweight which make them easily maneuvered by two people, and for added convenience they come with standard lift straps.
Additionally, our dock plates feature a diamond pattern embossed on the top surface, to help prevent any wheel slip during usage. With the design of the aluminum dock plate not having curbs, they are more ideal for irregular or sharp turns. Bright yellow stripes added along the edge to help guide with the loading and unloading process.  
When you need lighter weight applications, The YARD RAMP Site recommends employing an aluminum dock plate. We proudly manufacture all our products in the USA!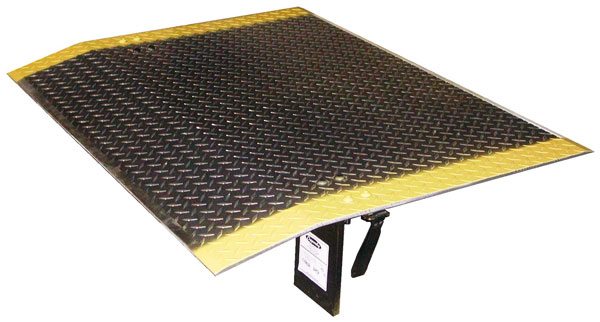 Custom Options Available for Our Loading Dock Plate 
In addition to standard our dock plates, all of our plates offered are available for special order configurations. Our in-house engineering team customizes dock plates to any specification, size, or requirement.  Fill out the form along the side or give us a call to discuss your unique specifications!