Aluminum Ramps | Made in USA
As a leading designer and manufacturer of loading dock equipment, YARD RAMP Site works tirelessly to develop the best aluminum ramps in America. We design our ramps to maximize safety, space, and efficiency. Productivity and safety are two of the most crucial aspects of a loading dock operation; therefore, YARD RAMP Site ramps are engineered to meet the needs of all staff members. With a unique one-cylinder design, our aluminum ramps use much less pressure to raise relative to other ramps. The one-cylinder design also provides many other advantages:
Easy Operation and Maintenance – We have placed the hydraulic hand pump on the outside to make operation and maintenance simple and easy.
Quicker Raise Times – Our yard ramp raise two and half times faster than competing equipment.
Less Wear and Tear – The positioning sleeve is where all rotation is focused rather than on the ramp's connection, preventing unnecessary wear and tear.
Better Stability – The centrally-located cylinder decreases the chances of tipping and increases stability.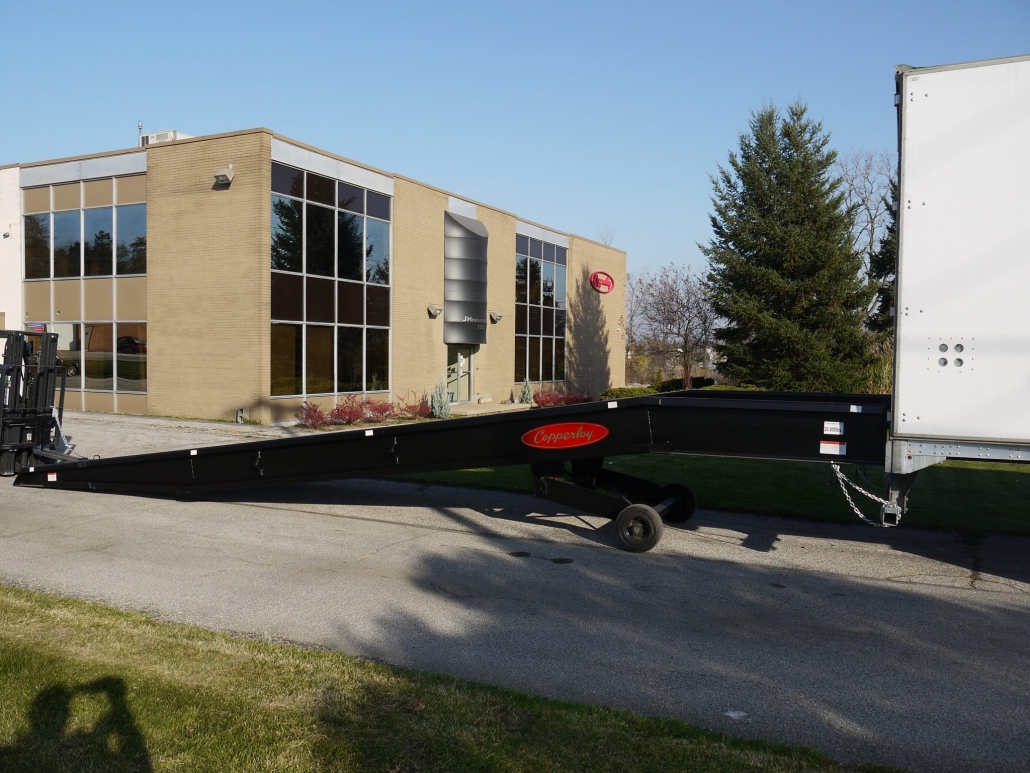 Key Features | Aluminum Ramps
8-Foot Level Off 
Forklift accessibility and safety are always important for loading dock operations, so we have implemented features to make forklift operation as smooth as possible. The 8-foot level off gives forklifts a safer, easier ride on and off trucks and docks.
15-Inch Lip
This 15-inch lip rests on the truck or on the dock's platform. We also include 8-foot safety chains to ensure the ramp does not pull away from the dock platform or truck.
Hydraulic Pump
YARD RAMP Site aluminum ramps need only half the effort to operate compared to traditional loading ramps. We have placed our single-acting hydraulic hand pump conveniently on the outside of the ramp. This allows for easier operation and maintenance as well as more defense from dirt and debris. The handle is also removable for when it is not in use.
Low End Plate
YARD RAMP Site excels in designing ramps for safe and easy access for forklifts. One of our staple features of our aluminum ramps in the low end plate. This low end plate sits lower than the wheelbase of a forklift. As a result, forklifts can reach the grating with their front tires while their back tires remain on the ground, making loading and unloading a much smoother process.
High-Traction Deck Grating
Each of our aluminum ramps contains durable, high-quality materials. Our ramps' deck grating can handle even the roughest climate conditions. The one and three-quarter inch spaces between the bars prevent buildup by allowing rain, snow, and other debris to fall through. Furthermore, the serrated grating provides high traction in all inclement weather conditions.
Safety Curb
The 7-inch curb is a staple feature on YARD RAMP Site ramps that prevents runoff.
18-Inch Solid/Pneumatic Tires 
Solid/pneumatic tires reduce overall maintenance needs for loading ramps. There tires do not need to be refilled and have lubricated bearings, so they are essentially maintenance free.
Positioning Sleeve
With the positioning sleeve, our aluminum ramps can rotate up to 180 degrees. A forklift can slide its fork into the sleeve and reposition the ramp within the 180-degree rotation limit. This feature is perfect for decreasing downtime and increasing productivity in freight-loading facilities. The positioning sleeve is not meant for long-distance towing or over the road travel.
Towbar
YARD RAMP Site ramps can be easily relocated in your facility with the use of the towbar. Just connect the towbar to the end of the ramp and tow it around your facility at up to 5-mph. This feature is not meant for towing over the road or for long distances.
Increase Capacity and Efficiency | Aluminum Ramps
With YARD RAMP Site aluminum ramps, you can easily expand the dock capacity in your facility. Setting up a loading dock has never been easier. Simply attach the ramp to the dock or truck and begin loading. We have designed ramps with an invaluable ability to increase dock capacity as well as maintaining high safety and efficiency. With Copperloy, enhancing productivity is safe, simple, and affordable.