YARD RAMP Site participating at Terminal Properties Exchange (TPE) 2013
YARD RAMP Site is happy to announce that we will be attending the upcoming TPE in Captiva, Florida. The Terminal Properties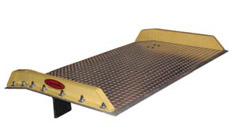 Exchange will be taking place this year from May 12-15, and is one of the largest annual events of its kind for the freight industry. As a leading provider of material handling and loading dock equipment to the industry, we will be showcasing a variety of our versatile and innovative solutions at the TPE.
We have been serving the logistics and freight industries for more than 60 years, providing a wide range of products and solutions. Everything we produce is proudly made in the USA, and with an expert in-house team of engineers, we can custom design and manufacture tailor-made solutions for companies with varying needs and unique or hard to match specifications and circumstances.
With the US economy being so reliant on the logistics and freight industries, just about anything which is purchased across the country spent some time on a truck, and that means that a YARD RAMP Site product helped along the way. Through our decades of experience, we understand the challenges of the freight industry. This firsthand knowledge is one of the many reasons that leading freight carriers and brands continue to work exclusively with us.
Of course, anyone who has been in this or similar fields before knows that one of the major hassles of logistics and freight are the inconsistent measurements and specifications of different trucks and other gear and equipment, and the burden this places on freight terminals and their employees. And this is exactly where and how our products come to the rescue.
We're a leading provider of edge of dock levelers, providing a service range of 5 inches above and 5 inches below the dock, offering amazing flexibility. Our edge of dock levelers are offered with various gross weight capacities, and in all common sizes and specifications, and offer quick and easy operation with the dual extension spring lift assist. They are built to last, require little to no maintenance, and can be equipped with push button operation and hydraulic lift functionality.
We also provide a huge range of dock ramps, including dock to ground ramps, and portable yard ramps that help facilities maximize their space and efficiency. In addition, YARD RAMP Site also produces a wide range of other material handling equipment. This includes dock boards, dock plates, dock lifts and lift tables, portable platforms, and on down the line.

We'll be happy to provide you with more information and product specifications and capabilities while we're at the TPE in Florida! If you can't make it to TPE, then contact us now for information about our products and how they can help your transportation company.
The Terminal Properties Exchange is a great opportunity to connect with potential service and equipment providers, and others across the logistics and freight industry. If you or your company will be attending the TPE this year, be sure to stop by and see what we're able to offer.
We hope to see you there!