Copperloy Heavy Duty Site Dock Leveler
An edge of dock leveler (EOD) bridges the gap between the loading area and a truck or ramp. In contrast to a dockboard, EODs are attached to the loading dock. Dock levelers are an ideal solution for trucks backing up to a dock. By simply pulling the levelers handle, it will lift over the top truck height for easy positioning.
Watch the dock equipment video below to learn more.
Where To Use?
Dock levelers allow our customers to safely and efficiently unload otherwise difficult freight handling tasks. Use these levelers to correct the height difference between trucks and loading platforms.  This helpful tool compensates for 5″ above or below dock levels.  To top it off, these heavy-duty products handle capacities of 20,000-30,000 lbs.
Dock Leveler | Top Benefits
The Yard Ramp Site's levelers are simple to operate.  Whether you're using the handle or the wall-mounted push button, the leveler will fully extend to the height of the trailer bed.  In turn, allowing for safe freight handling.
Dock levelers are ideal for limited dock space or when the working range of a full-size, pit-style edge of dock leveler is not necessary. Each leveler is available with hydraulic or mechanical activation (lift).
Durable Design
Made in the USA, our edge of dock leveler's design is engineered using a three-dimensional engineering software package.  Then, we use our unparalleled steel fabrication skills to provide customers with the highest level of performance.
Easy and Efficient Lifting and Positioning
Our exclusive lift mechanism and spring assembly sets the board in place with one-quarter the effort needed to operate conventional edge of dock levelers.
Push Button Operation on Hydraulic Models
All the benefits of the mechanical system are also available in our hydraulic material handling dock leveler models.
Ideal for Retrofit
The YARD RAMP Site Edge of Dock leveler easily mounts to the face of almost any dock. Transition plates and approach ramps are also available.
Safety
Every YARD RAMP Site Edge of Dock Leveler is equipped with a safety maintenance strut to secure the unit while performing routine maintenance.
Low Maintenance
Maintenance is reduced to simple lubrication of hinges which come equipped with grease fittings.
Features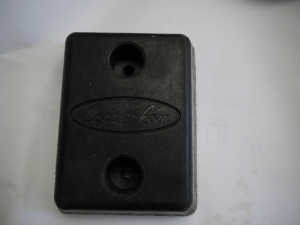 We mount 4″ x 13″ x 10″ molded and reinforced rubber to the steel box frame to protect and preserve bumpers. Optional 4″ x 12″ x 13″ bumper assembly is available as well!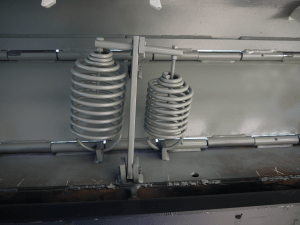 Lift Assist
Dual extension springs make for an easy lift.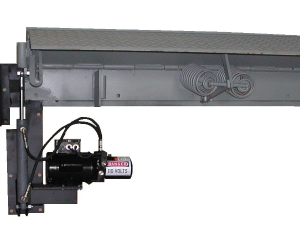 Options
Consult the factory for more information on the following add-ons:
Available Widths include 66″, 72″, 78″,  and 84″
Refer Lip
Reduced Lip bend
In-Board Handle Assembly
Hydraulic Model – 115/230 VAC Single Phase
Dock Leveler Installation
For proper dock level installation, it is absolutely necessary to review the edge-of-dock manual.  In turn, users are able to take essential precautions.
To get started, the installer needs to evaluate the health of the dock area and make any necessary repairs.  All anchors in use must have a minimum strength in shear of 10,000 lbs force and a minimum of 6,000 lb pullout strength in solid concrete.   Also, the dock leveler needs to be in compliance with all local codes.
For additional helpful tips of proper installation, consult with a member of our YARD RAMP Site team.  Plus, check out the video below and the owners manual!