Where to Buy an Industrial Ramp in Texas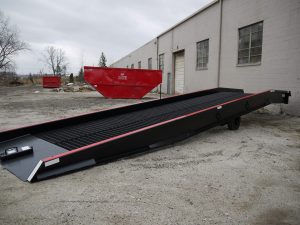 If you're looking to purchase new or used or rent a yard ramp in Texas, including all other loading dock equipment, contact The Yard Ramp Site today.
The Yard Ramp Site's nationwide distribution network includes several dealers in Texas that can provide you with loading dock solutions. Whether you're in Houston, Dallas, San Antonio, or Austin, you'll be able to receive quick and affordable shipping on yard ramps and other dock solutions.
We produce a wide range of material handling equipment, highlighted by our versatile yard ramp, dock-to-ground ramps, and truck or forklift ramps. All of our gear is feature-rich and is available in various sizes, weight capacities, and other specifications.
The YARD RAMP Site equipment can also hold up to the harsh demands of the Texas climate, from scorching high heat in the summer, to severe storms and more.
Find Your Dealer Today – Call
800-321-4968
No matter what industry you're in, or what your specific needs and challenges are, The YARD RAMP Site is here to help you. Our goal is for your facility to get the job done as quickly, efficiently and effectively as possible. Everything we make is always proudly made in the USA. Our expertise has allowed us the experience of working with dozens of different industries.
Learn more about the industries we serve and find out if we can help you with your application. Contact us for additional information about our services and your equipment interests today!
Save