Truck Ramp | Industry-Leading Dock Equipment
When it comes to needing a truck ramp Copperloy® has solutions, affordability, and mobility. Our truck ramp selection is offered and in stock for new, used and rental purchases. Our standard truck ramp is available in the highest-quality steel with capacities up to 30,000 lbs. Aluminum truck ramp with steel grating is available, please contact YARD RAMP Site for more information. 
With Copperloy's space-efficient truck ramps you gain ground-level access to truck beds, buildings, and railcars. With its mobility easily moves from job to job and superior strength and functionality to handle freight with a forklift or lift truck, you can create a freight handling center just about anywhere you need one. 
When you buy directly from Copperloy's manufacturing distribution you cut out the middleman which in turn saves you the hassle, time and money. With Copperloy's financing options, unlimited on-site stock,  in-house engineering team for custom designs, and three ways to buy – new, certified pre-owned and rentals we are your one-stop-shop when looking for truck ramps and all other dock equipment needs.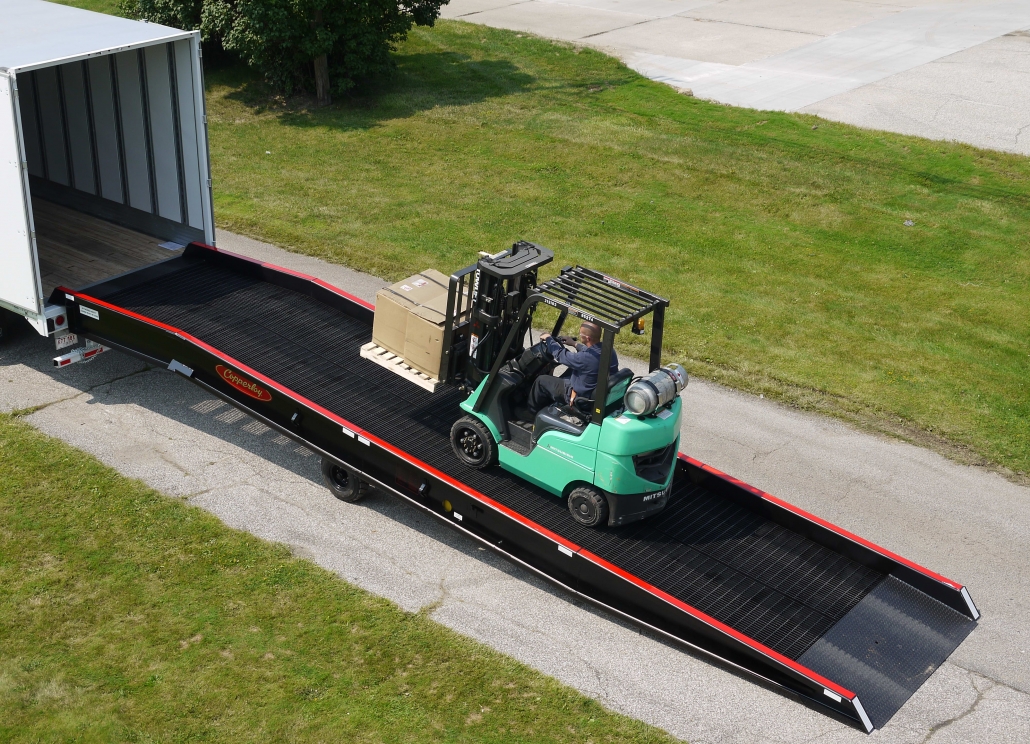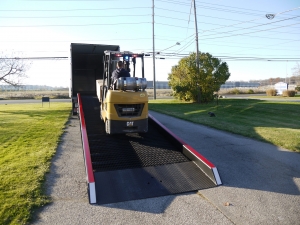 Specifications of Steel Truck Ramp
Length: Up to 36′
Height: Range from 38″-65″
Width: 70″ or 84″
Capacity: 16,000-35,000 pounds
Ask about custom specifications!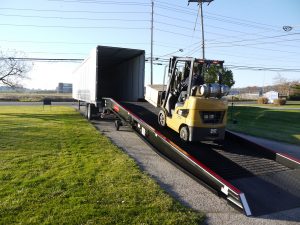 Specifications of Aluminum Truck Ramp
Length: Up to 36′
Height: Range from 38″-65″
Width: 70″ or 84″
Capacity: 16,000-25,000 pounds
Ask about custom specifications!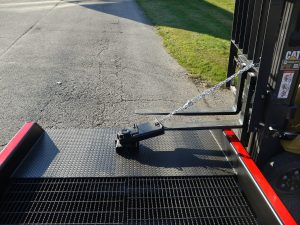 Standard Tractor Trailer Ramp Features
7″ safety curbs to prevent accidents
Steel grating for all-weather traction
One-cylinder hydraulic pump for a quick rise time
Positioning sleeve to maneuver 180 degrees into proper position
15″ lip to prevent the ramp from pulling away
Standard, 8′ level off for stability and easy operation. A custom 10′ level off is available! Simply contact Copperloy.
Successful Safety Tips For Ramp Usage
YARD RAMP Site is a resource you can count on.  Our goal is to provide all the skills and tools for success while using our dock equipment.  Find some quick tips below!
RAMP SAFETY
Know Equipment Capabilities
Made in the USA, Copperloy's truck ramps are engineered for industrial use.  Though built with high-strength metals, but yet everything has its limits. Be sure not to exceed maximum load capacity.
Secure with Wheel Chocks
Standard ramp features mixed with dock equipment accessories are the recipe for loading task success.  YARD RAMP Site accessories include aluminum wheel chocks that prevent dangerous movement during loading. Snug, maximum holding protects against involuntary movements from jolts and shifting.
Unload on a Level Surface
The ground below the truck ramp should be solid.  Ideally, unload on concrete or pavement.
Secure Ramp Connection
The lip of the ramp should be securely resting on the dock or truck.  Additionally, connect safety chains when needed.
Transport at Safe Speeds
Operators should not exceed 5mph when using the towbar.  Also, the truck ramp is not intended for long-distance towing.  Additionally, the positioning sleeve is meant to adjust and reposition the ramp, not for towing.
Maintain and Inspect Truck Ramp Conditions
Before use, check for signs of rust or damage.  For ramps that use hydraulic height adjustment, check hydraulic fluid levels.  Then, check the loading dock. It is also important to regularly inspect for cracks, damage, etcetera.
Tractor Trailer Truck Ramp | YARD RAMP Site v. The Competition
Want to see how YARD RAMP Site measures up to the competition?  Check it out in the video below.