Bluff Manufacturing v. Copperloy | How We Compare
Whether it's retail or restaurants, each industry has its own competition.  The same is true when it comes to loading dock equipment and yard ramps. From Bluff Manufacturing and Dura Ramp to Medlin and the Yard Ramp Guy, Copperloy has their work cut out for them when it comes to keeping up with the competition.  That's why we have a staff of talented engineers who are continuously generating new ideas and designs in order for us to stay a step ahead.  
When it comes to America's Ultimate Yard Ramp, YARD RAMP Site outperforms the competition.  What is it that makes YARD RAMP Site ramps so great? Keep reading to find out!
America's Ultimate Yard Ramp | Single-Acting Hydraulic
When it comes to performance, our single-acting hydraulic system puts YARD RAMP Site ahead of the game.  As a result of transmitted pressure, hydraulic ramps allow for quick height and positioning adjustments.  Meaning, these ramps are perfect for an assortment of applications.  
What is it that makes Copperloy's hydraulic ramp so special? Well, instead of operating off of standard two-cylinder hydraulic systems, our design utilizes a single-acting hydraulic pump.   As a result, our ramps have up to 2-½ faster rise times that competitors such as Bluff Manufacturing. In addition to versatility, convenience, and efficiency, check out these benefits that help our design perform better and faster.  
Benefits of Single-Cylinder Hydraulic Ramps
Ease of Operation – Our hydraulic hand pump is located on the outside of the ramp.  This means that both operation and maintenance are much easier for users.
Quicker rise times – We've mentioned it before, but it's just so exciting! YARD RAMP Site ramps are able to raise up to 2-1/2 times faster than competing products.
Additional Durability – Rotation traditionally takes place at the ramp's connection.  Instead, Copperloy's design incorporates a positioning sleeve.  By focusing rotation on the positioning sleeve, overall wear-and-tear is greatly reduced.
Greater stability – The centrally-located cylinder eliminates the chances of tipping and instability.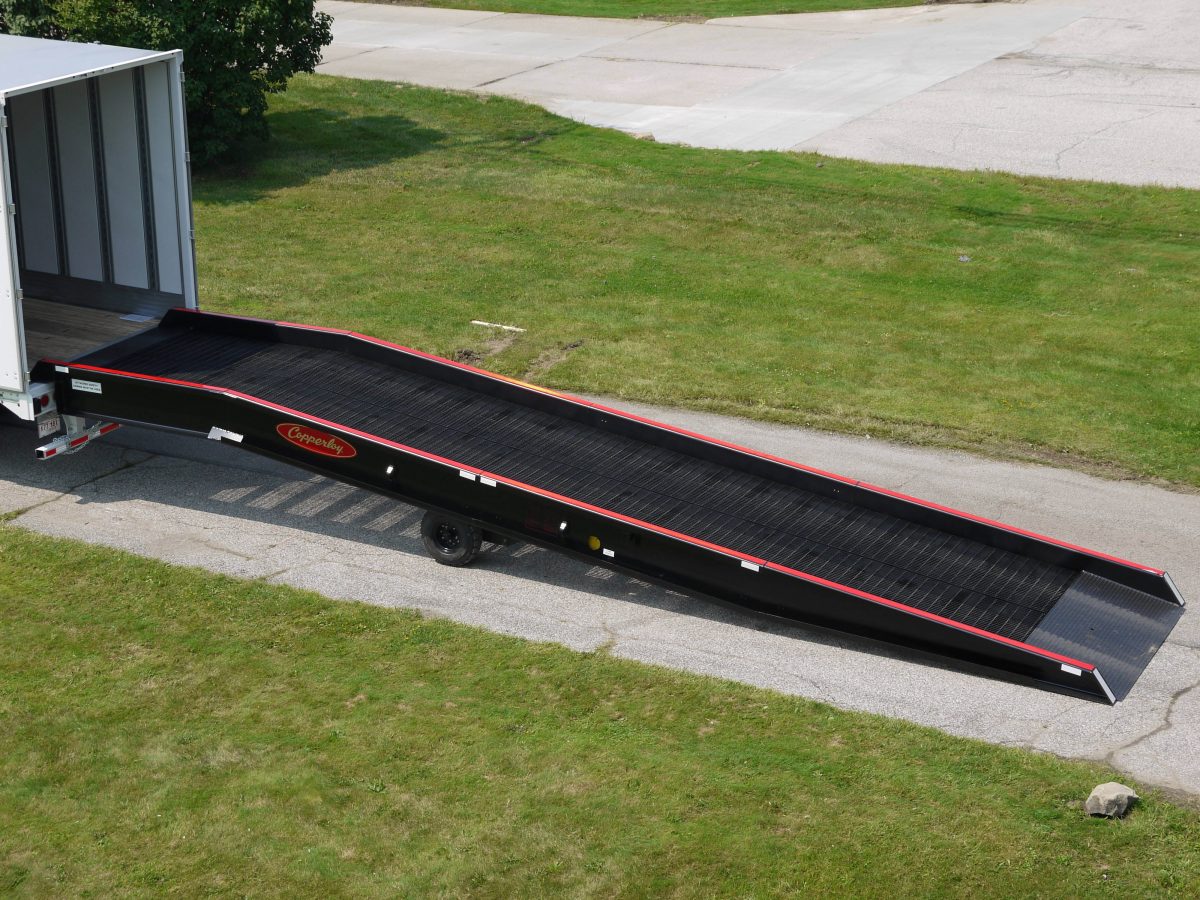 Key Features | YARD RAMP Site Yard Ramps v. Bluff Manufacturing and Other Competitors
Each brand has its own signature features.  When it comes to efficiency and safety, YARD RAMP Site has found these features to offer our client's the best benefits.
LOW-END PLATE
Many competitors struggle to design a ramp with smooth and safe forklift access.  However, YARD RAMP Site ramps designs entail key features that make it forklift operation hassle-free.  For example, a low-end plate sits lower than the forklift's wheelbase.  As a result, the front wheels of the loading vehicle can reach our high-traction deck grating while allowing the back wheels to remain safely on the ground.   By simplifying ground-level entry, this reduces any bumps and jolting that may occur when using other ramps.
HIGH-TRACTION DECK GRATING
As mentioned, YARD RAMP Site ramps use a high-traction deck grating.  Made of high-strength steel, grating bars include 1-3/4 spacing between bars. In turn, water, snow, and other debris can easily fall through.  This grating prevents buildup and provides high-quality traction in harsh, environmental conditions.
SAFETY CURB
Safety will always be a key focus at Copperloy.  It is standard that are ramps offer 7″ safety curbs.  We aim to reduce the risk of accidental run-off and other loading mishaps with these high-performing safety curbs.
18-INCH SOLID/PNEUMATIC TIRES 
In comparison to competitors whose ramps often feature dinky wheels prone to instability, YARD RAMP Site ramps feature 18″ pneumatic tires.  We greatly reduce the maintenance that is invariably needed for tires and wheels on the designs of our competitors. How? Well, these tires are solid-filled.  Meaning, there isn't a risk of puncture or flat tires.  Additionally, YARD RAMP Site tires feature lubricated-for-life bearings.  Essentially, these ramp tires are maintenance free!
POSITIONING SLEEVE
Thanks to our unique positioning sleeve, YARD RAMP Site ramps conveniently rotate 180 degrees within minutes. SImply slide the fork of a forklift into the sleeve and adjust the ramp to the proper position.  Decrease downtime significantly and greatly increase overall productivity with this maneuverability feature.
TOWBAR
A customer favorite, the towbar allows for easy transportation within your facility.  The towbar conveniently connects to the end of the ramp and allows for towing speeds up 5-mph.  This feature is not designed for long-distance towing.  However, when it comes to quick moves around the facility, the towbar couldn't be more efficient!
YARD RAMP Site v. Competitors | A Step Ahead
Like we said, there are awesome competitors in the industry such as Bluff Manufacturing, Dura Ramp, and more.  However, when it comes to the best of the best, YARD RAMP Site has the ramp you want.  We know that seeing is believing, so check out this quick comparison video!