The Best Edge of Dock Leveler For Safety on the Job
The lowest cost solution to get a working dock with a 5″ or less gap.
An edge of dock leveler (EOD) is used to bridge the gap from the edge of a loading area to a truck or ramp. As opposed to a dockboard, EODs are fixed to the loading dock. The YARD RAMP Site's edge of dock levelers are ideal for use when trucks are backing up to a dock. With a simple pull of the handle, the leveler will lift over the top truck height for easy positioning. They mount easily to most docks and are available in 66″, 72″, 78″ and 84″ widths. Our shipping dock leveler is capable of servicing trucks 5″ above or below dock levels and is available in both 20,000 and 30,000 lb. models.
Watch the dock equipment video below to learn more.
Call For Quote & Connect with an Installer in Your Area
The Ideal Solution for a Loading Dock Leveler
A loading dock leveler is a perfect solution for when dock space is limited, or when the working range of a full-size, pit-style edge of dock leveler is not needed. Each YARD RAMP Site EOD is available with hydraulic or mechanical activation (lift) for smooth and reliable operation.

Simply pull back the handle and the lip will mechanically lift over the dock height. Then, a slight forward push of the handle will position the lip onto the truck floor.
All of our edge of dock levelers for sale are available with our quick, 3-day shipping. With loading dock equipment from Copperloy, you'll get more done in less time, and increase your overall capabilities.
Truck Dock Levelers
Truck dock levelers correct the height differences between the truck and loading docks or platforms.  Copperloy's edge of dock levelers compensates for 5″ above or below dock levels.  These durable products are designed to handle 20,000-30,000 lbs.  Make quick work of otherwise tedious loading and unloading tasks with YARD RAMP Site truck dock levelers.
Dock Levelers | Top Benefits
Each YARD RAMP Site dock levelers are smooth and easy to operate. Whether using the handle or the wall-mounted push button (on the hydraulic unit) your EOD extends fully to the height of the trailer bed for safe freight handling. All the benefits of the mechanical system are also available in our hydraulic material handling dock leveler models.
To ensure product durability, the EOD has been designed and engineered using a three-dimensional engineering software package.
Quick, easy lifting and positioning: Our exclusive lift mechanism and spring assembly sets the board in place with one-quarter the effort needed to operate conventional edge of dock levelers.
Push button operation on hydraulic models.
Ideal for retrofit: The YARD RAMP Site Edge of Dock leveler easily mounts to the face of almost any dock. Transition plates and approach ramps are also available.
Safety: Every YARD RAMP Site Edge of Dock Leveler is equipped with a safety maintenance strut to secure the unit while performing routine maintenance.
Low maintenance: Maintenance is reduced to simple lubrication of hinges which come equipped with grease fittings.
FEATURES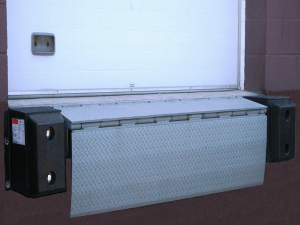 Edge of Dock Levelers Specifications
High strength low alloy (50,000 lb. Minimum Yield) tread plate, lip beveled for smooth transition.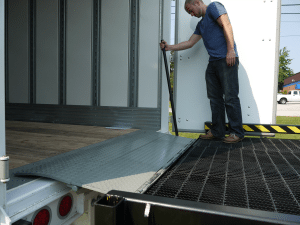 Projections
Bumpers 16″. Ramp 13 1/2″ in the stored position. The lip extends 12″ beyond the bumpers on standard lip models and 14″ on refer lip models.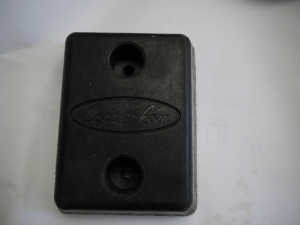 Bumpers
4″ x 13″ x 10″ molded reinforced rubber mounted to the steel box frame. Optional 4″ x 12″ x 13″ bumper assembly.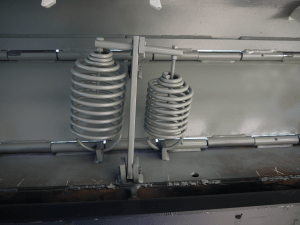 Lift Assist
Dual extension springs.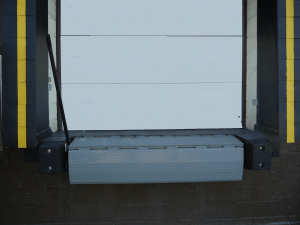 Finish
The unit is completely cleaned, deburred and painted gray.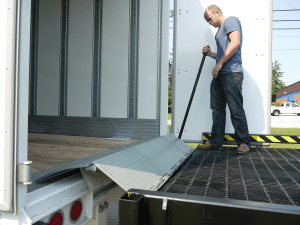 Service Range
Capable of servicing trucks 5″ above and 5″ below the dock.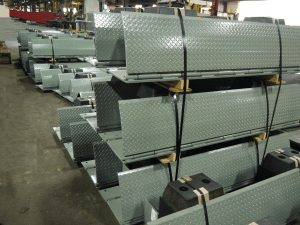 Capacities
20,000 lb. and 30,000 lb.
Widths
66″, 72″, 78″, 84″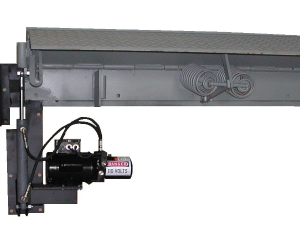 Options
Consult the factory for more information:
Refer Lip
Reduced Lip bend
In-Board Handle Assembly
Hydraulic Model – 115/230 VAC Single Phase
Dock Leveler Installation
For proper dock level installation, it is crucial the installer reviews the edge-of-dock manual and considers the precautions.  Initially, it is the installer's responsibility to evaluate the health of the dock area and make any necessary repairs.  All anchors must have a minimum strength in shear of 10,000 lbs force and a minimum of 6,000 lb pullout strength in uncracked concrete.   The dock leveler must also comply with all local codes.
Consult with a member of our YARD RAMP Site for a complete overview of the proper installment steps.  Also, check out the video below and the owners manual for a list of tips!
FAQS
How thick is the steel on the EOD?
On our 20k capacity, it is ⅜" thick.
On our 30k capacity, it is ½" thick.
What is the diameter of the EOD handle?
1.315″ diameter
How much force is on the lever (handle)?
40-50lbs.
What is the freight class for an EOD for shipping?
Freight class 60
What lip sizes do you have?
On our standard EOD, the lip is 14.4″ and on our Refer EOD, the lip is 16″
What is the lip projection of an EOD?
On our standard EOD, the projection is 12″ and on our Refer EOD the projection is 14″
What are the weights of your EOD's?
SEL2066CG = 489lbs     SEL2066CRG = 504lbs.
SEL2072CG = 505lbs     SEL2072CRG = 520lbs
SEL3066CG = 524lbs     SEL3066CRG = 539lbs
SEL3072CG = 563lbs     SEL3072CRG = 583lbs
SEL3078CG = 598lbs     SEL3078CRG = 615lbs
SEL3084CG = 625lbs     SEL3084CRG = 642lbs
What is the height range on an EOD?
+ Or – 5″
Can anything be added to the bumpers to prolong wear?
Yes. We can add Steel face bumper guards
How many EOD's can fit on a pallet?
We can ship up to 6 EOD's on one pallet
How far apart are the holes on the 2-hole bumpers?
The holes are 7″ apart on center.
Can you reduce the bend on your EOD's?
Yes. We can reduce the bend from our standard 8˚to 5˚ . The height range will change to + or – 3″ (not available on our Refer Models)
Why do I need a refer lip EOD?
Our refer model EOD are used for refrigerated trucks.
Can you make an EOD with no bends?
NO. An EOD will not work with any bends. The EOD will hit the truck and not be able to extend.
What does an EOD come with?
An EOD comes with (2) steel bumper blocks, (2) rubber bumpers and an activation handle.
What type of channel is required for installing an EOD?
We recommend a minimum of an 8″ steel channel with upper and lower straps alternating every 10″ with end straps on top.
How does an EOD attach to the dock?
The EOD should be continuously welded to the dock edge channel. If a channel is not present then a transition plate is required.
Can an existing EOD be converted to a hydraulic EOD?
Yes. A hydraulic power pack can be added to a manual EOD to convert it to a hydraulic EOD.
Can pallet jacks be used on an Edge of Dock?
Pallet jacks are not recommended on an Edge of Dock. It will be very bumpy for a pallet jack and it could bottom out with any height variation.
How long is an Edge of Dock activation handle?
The activation handle is 42″ long.
Find more answers to common yard ramp questions on our yard ramp resources page or wikipedia.
Dock Equipment | Additional Videos
View our dock equipment videos here and visit us on YouTube for more of our videos!