Hydraulic Edge of Dock Levelers for Workplace Efficiency
Easily convert Copperloy's edge of dock levelers into hydraulic edge of dock levelers with the addition of our hydraulic power unit. Enhance loading dock productivity, efficiency, while also reducing stress and risk of injury for employees.
Made of high-quality, durable materials, our hydraulic levelers require minimal maintenance while also offering quick and easy operation. There are 12 different models to choose from, including:
Capacities of 20,000 and 30,000 lbs.
Widths ranging from 66″ up to 84″
Projections of 12" and 14"
Have a unique loading dock? Copperloy's expert in-house engineering team can custom design and manufacture any hydraulic edge of dock leveler to meet your specific needs and circumstances.
Watch the dock equipment video below to learn more.
FEATURES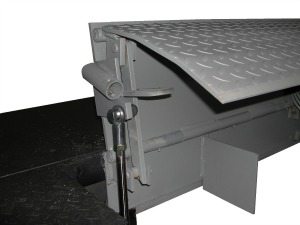 Features:
The hydraulic pump, motor and cylinder are housed on a single bracket for easy wall mount installation.
In the event of a power failure, the cylinder arm can be disconnected from the ramp plate bracket allowing for mechanical operation of the leveler unit.
Lift assist extension springs remain on our hydraulic edge of dock levelers.
All YARD RAMP Site EODs are supplied with an activation handle, which doubles as a safety maintenance strut.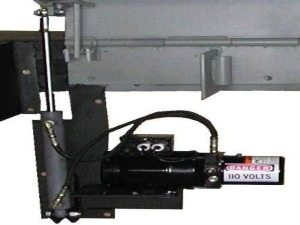 Available Voltage:
115 volt, single phase (standard)
208/220 volt, single phase (available)
208/230, three phase (available)
460 volt, three phase (available)
Additional Videos
View our dock equipment videos here and visit us on YouTube for more of our videos!
FAQS
What does an EOD come with?
An EOD comes with (2) steel bumper blocks, (2) rubber bumpers and an activation handle.
How many EOD's can fit on a pallet?
We can ship up to 6 EOD's on one pallet.
Why do I need a refer lip EOD?
Our refer model EOD are used for refrigerated trucks.
What is the lip projection of an EOD?
On our standard EOD, the projection is 12″ and on our Refer EOD the projection is 14″
What lip sizes do you have?
On our standard EOD, the lip is 14.4″ and on our Refer EOD, the lip is 16″
How long is an Edge of Dock activation handle?
The activation handle is 42″ long.
How much force is on the lever (handle)?
40-50lbs.
What is the diameter of the EOD handle?
1.315″ diameter
Can pallet jacks be used on an Edge of Dock?
Pallet jacks are not recommend on an Edge of Dock. It will be very bumpy for a pallet jack and it could bottom out with any height variation.
Can an existing EOD be converted to a hydraulic EOD?
Yes. A hydraulic power pack can be added to a manual EOD to convert it to a hydraulic EOD.
How does an EOD attach to the dock?
The EOD should be continuously welded to the dock edge channel. If a channel is not present then a transition plate is required.
What type of channel is required for installing an EOD?
We recommend a minimum of an 8″ steel channel with upper and lower straps alternating every 10″ with end straps on top.
Can you reduce the bend on your EOD's?
Yes. We can reduce the bend from our standard 8˚to 5˚ . The height range will change to + or – 3″ (not available on our Refer Models).
Can you make an EOD with no bends?
NO. An EOD will not work with any bends. The EOD will hit the truck and not be able to extend.
How far apart are the holes on the 2-hole bumpers?
The holes are 7″ apart on center.
Can anything be added to the bumpers to prolong wear?
Yes. We can add Steel face bumper guards.
What is the height range on an EOD?
+ Or – 5″
What are the weights of your EOD's?
SEL2066CG = 489lbs     SEL2066CRG = 504lbs.
SEL2072CG = 505lbs     SEL2072CRG = 520lbs
SEL3066CG = 524lbs     SEL3066CRG = 539lbs
SEL3072CG = 563lbs     SEL3072CRG = 583lbs
SEL3078CG = 598lbs     SEL3078CRG = 615lbs
SEL3084CG = 625lbs     SEL3084CRG = 642lbs
What is the freight class for an EOD for shipping?
Freight class 60
How thick is the steel on the EOD?
On our 20k capacity, it is ⅜" thick.
On our 30k capacity, it is ½" thick.
Find more answers to common yard ramp questions on our yard ramp resources page or wikipedia.