Six things to Consider before Buying an Edge of Dock Leveler
With over 60 years of experience in manufacturing and selling material loading equipment, YARD RAMP Site has established a reputation in providing quality equipment that's built to last. At Copperloy, we offer our customers the option of tailor-made equipment that can handle any unique challenge.  When it comes to our edge of dock levelers, this equipment provides our customers with a practical solution for loading and unloading trucks from most dock positions.
1. Ease of Use
YARD RAMP Site is the most trusted name when searching for an easy-to-operate edge of dock leveler. Why? It's because we offer market-leading equipment parts, coupled with superior safety. Our levelers easily mount to the face of nearly any dock. And if that's not enough, we also offer transition plates and approach ramps to further take the weight off your shoulders.
2. Manual and Hydraulic Options
At Copperloy, we offer a manual edge of dock leveler with the option of having a hydraulic power unit installed to it via a wall-mounted push button. That push of a button allows the unit to lift and rest heavy items, from 20,000 to 30,000 pounds, to the height of a trailer bed for safe freight handling.
3. The Utmost in Safety
Safety is the top priority at Copperloy. That's why each of our edge of dock levelers are equipped with a safety maintenance strut to secure the unit, while performing routine maintenance. Speaking of maintenance, lubricating the hinges is simple on our levelers because they come with grease fittings.
4. Quality Engineering
Our edge of dock leveler has been designed and engineered using a three dimensional software package. Copperloy's exclusive lift mechanism and spring assembly sets the board in place with a fraction of the effort needed to operate a conventional edge of dock leveler.
5. Long-Lasting Bumpers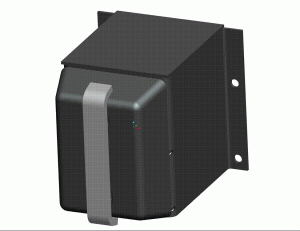 Another area of importance at YARD RAMP Site is the quality of our leveler's bumpers. The rubber/steel block bumper combo is often times the first thing to go bad in an edge of dock leveler. Several years ago, YARD RAMP Site began using a specially-blended rubber formula bumper that is 3,000 PSI. We truly believe this is the longest lasting – and absolute best option – on the market.
6. Durability that Lasts
Durability is another key component to a properly functioning and lasting edge of dock leveler. While most edge of dock levelers have some wear and tear at the pivot points, Copperloy's pivot points are equipped with bushings to minimize wear. This is another area that sets us apart from our competition.
An edge of deck leveler isn't the only piece of equipment offered at Copperloy. We provide customers with a wide variety of American made mobile yard ramps, dock-to-ground ramps, truck ramps, and forklift ramps. We also have rail boards, dock plates, and portable platforms. All of our material handling equipment is available to purchase, some even available to rent.
YARD RAMP Site provides only the best products on the market to make our customer's loading and unloading experience significantly lighter. Learn more about what YARD RAMP Site can do for your unique dock and ramp needs by calling us today at 1­800­321­4968 or contact us by clicking here.